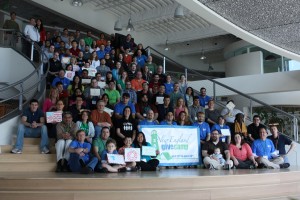 by Joy Olaes Surprenant
We're off to a running start!
April 26-26, 2013, New England GiveCamp and Catching Joy hosted a raffle to benefit One Fund Boston and The Sean A. Collier Fund (MIT). We also made thank you to the heroes of Marathon 2013.
GiveCamp is a weekend-long event where technology professionals-including designers, developers and database administrators as well as marketers and web strategists- donate their time and unique talents to provide software solutions for local charities and other non-profit organizations. New England GiveCamp 2013, held at the New England Research and Development Center (NERD), in Cambridge, MA, drew in 24 non-profits and 120 volunteers.
It is fitting that Catching Joy and New England GiveCamp partnered together for Mile One because we share "beginnings" with them.
Catching Joy has participated from the start of GiveCamp and every year after- 2010, 2011, 2012, and 2013. As a start-up non-profit, completely volunteer run, we do not have the budget to pay for professional marketing and development services. We are thankful to GiveCamp for creating our website, brochure, flyers, and business cards. With the help of GiveCamp, Catching Joy has been able to grow and reach more children and families.
NewEngland GiveCamp and Catching Joy raised $1,000, an incredible outpour of generosity given that participants already donate their expertise and skills to help for a whole weekend. With little sleep and big projects requiring a lot of work, volunteers took the time to make cards and express their gratitude to community helpers. GiveCamp displayed true giving of time, talent and treasure to help and make a difference.
As I reflect upon my experience with New England GiveCamp, I'm grateful for the friendship, support and help. I believe the best way I can thank them is to continue doing Catching Joy's work, helping others and spreading joy.
Isnt life suppposed to be like one big GiveCamp?
A time to give what you can.
Mile One! New England GiveCamp and Catching Joy raise $1,000! "Code It Forward!"