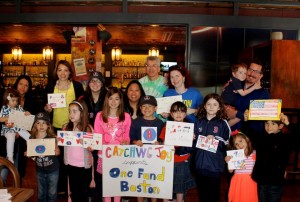 by Joy Olaes Surprenant
We had the date, time, place all set. The players were booked. When the bombing of the Boston Marathon 2013 happened, we were ready to help. We were ready for Mile 2!
Once a month, Ben Rudnick and Friends, Catching Joy, and TICO host a Family Works event, a time for families to volunteer together and have fun at the same time. Since last year, we've supported more than a dozen non-profits in various ways. After the community service project, most families stay to enjoy the great band and yummy brunch. Great food, great music, great vibes!
On Saturday, May 4, 2013, we teamed up and raised $510.64 for the One Fund Boston. Cathing Joy kids used their crayons, creativity and care to make cards for the first responders. There was great energy, enthusiasm, creativity, care, Compassion, and joy in the room as people bonded together for a cause close to home.
Catching Joy values the cards as much as the monetary donation, however big or small the amount. We know the difference one child can make with one event.
Aleena, 5 years old, made bookmarks and sold them to her family members. She brought her earnings, $4.64, in a Tinkerbell tin pencil case, to donate. She smiled as she emptied out the container, shaking it to make sure that every cent fell into the collection basket.
In my book, her contribution was worth more than a million dollars.
Mile 2! Ben Rudnick and Friends, Catching Joy, and TICO raise $510.64! Every cent counts!