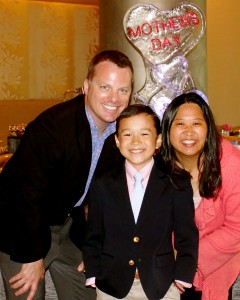 by Joy Olaes Surprenant
My Mother's day started with coffee and breakfast set on the table by my husband, Michael, and son, Maxwell. Breakfast is always sweeter when somebody prepares it for you. Together we said Grace, and we were mindful and thankful for our blessings, food on the table and our loving family.
The presentation of cards came next. It's become tradition that Michael gives me two cards, one serious and the other funny. Love and laughter are the two things that get me through every day. Also, a tradition, Maxwell gives me one homemade card, made with his crayons, creativity and care. I save and cherish everything that he makes for me. These are my treasures that I keep for they fill me with joy.
Feeling thankful for my blessings, I want to help others. That is why it is fitting that my family and I spent Mother's Day volunteering. We truly feel more joyful as we give to others.
When we launched our Catching Joy Marathon, 26 family friendly events over the course of a year, to aid the victims and thanks the heroes of the Boston Marathon 2013, The Ritz Carlton Boston Common was ready to team up with us for Mile 3. As part of their special Mother's Day Brunch, Catching Joy hosted an activity table where kids and adults made cards to bring encouragement to the victims and express gratitude to the heroes of the Boston Marathon 2013. The Ritz generously donated lunch for four at Artisan Bistro that we raffled off to support One Fund Boston.
I'm thankful for the partnership that Catching Joy has shared with the Ritz Carlton Boston Common for the last five years. Catching Joy supports The Ritz Nutcracker events every Saturday and Sunday from Thanksgiving to Christmas. We lead kids making ornaments to decorate holiday trees that we donate to shelter homes. We also collect new toys to give to a designated charity. Every Easter and Mother's Day, we organize a community service activity. This Mother's Day project for One Fund Boston was timely and meaningful as it was close at home.
I love cards and I love watching people make them.
One little boy, Quinn, was especially interested in police, firefighters and other community helpers. He made several cards where he drew emergency vehicles, the stations, and people dressed in uniform. He talked with enthusiasm and excitement about how police and firefighters protect us and save lives.
Quinn's sister, Casey, also made several cards. She drew hearts, flowers, rainbows, and peace signs. She shared appreciation for the community helpers and wrote "Police rock!" all over her cards.
Other cards were more serious and offered sympathy and "get well" wishes. The card makers signed their first name so that the recipients would feel a personal connection. We care. We are thinking about them. We are sorry. We are thankful. We are sharing our strength and our hope.
Catching Joy kids will visit police and fire stations and hospitals. We'll bring cookies. We know that treats tastes sweeter when somebody makes them with care. We'll give the cards, the serious ones and the funny ones. We pray that our love and laughter lifts them up and sustains them.
These are the treasures that we can give, that fill others with joy.
And that joy comes back to us.
Mile 3! Happy Mother's Day! Sharing joy at the Ritz Carlton Boston Common!