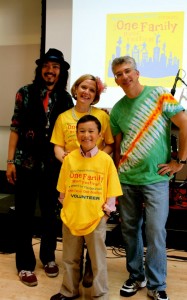 by Joy Olaes Surprenant
We sang, we danced, generic we rocked, and we brought the house down!
The One Family Music Festival, held May 12, 2013, at the Boston Conference and Exchange Center drew in a crowd of 1,200 and raised $23,000 in donations and sponsorships for One Fund Boston to help the victims of the 2013 Boston Marathon.
When Mommy Poppins Boston, media sponsor, and Karen Rives Kalafatas, organizer of the event, asked me if Catching Joy would like to take part, I knew that we fit right in this warm, happy, musical, moving and grooving family. Catching Joy loves to gently shake the world and set it in the right direction. As "Mile 4" of our Catching Joy Marathon, I committed Catching Joy's participation leading kids and adults making cards to thank the first responders. Boston firefighters came to receive the homemade cards.
The musical line up started with the Stacey Peasley Band, who sang at Catching Joy's Spring Tea at the Ritz Carlton Boston Common last year. I love her happy songs because they ring of the simple joys of family life. With Stacey's friendliness and spunk, she gets everybody dancing to her upbeat tunes. Other entertainers included Alastair Moock & Friends, Josh & The Jamtones, Karen K &The Jitterbugs, Vanessa Trien & The Jumping Monkeys, and Mista Cookie Jar &The Chocolate Chips. I was honored to meet some of these amazing musicians as I love their music and their hearts. Karen K gave the biggest bear hug and Mista Cookie Jar shared a special song Called "Tita Joy" with me. All these artists donated their time and talent to One Family Music Festival with the mission to offer healing and renewal and reclaim the city for our children and families.
Saving the best for last, Ben Rudnick &Friends, closed the show. I can't say enough wonderful things about the band. Catching Joy partners with them for Family Works events, designed to help a variety of different charities and causes. It's natural that we were together for this feel good, do good, family fundraiser. Great energy and lively spirit filled the rooms. People held hands and danced in circles. Kids sat on fathers' shoulders. Mothers clicked pictures and video recorded laughing children. Couples fast danced or slow danced to fast music. Others rested on chairs and soaked in the good vibrations.
There was joy at the festival, joy in the music, joy in "one family".
And the joy goes round and round.
Mile 4! One Family Music Festival raises $23,000 for One Fund Boston! And the joy goes round and round!