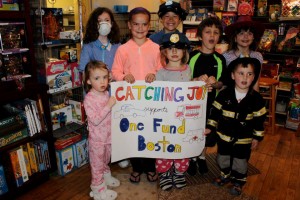 by Joy Olaes Surprenant
At the Blue Bunny in Dedham Square, Catching Joy finds a place that feels like home. Several years ago, the first day that I walked into the store and met some of the people working there, I knew it was an amazing store that focused on fun, adventure, creativity, care, community, and all good things. I introduced Catching Joy to The Blue Bunny and friends and the Dedham community caught on right away. Now, The Blue Bunny and Catching Joy partner together and organize one or two events every month to help various charities and causes. Catching Joy reads stories about different topics, all with positive messages, and offers simple art projects that kids enjoy doing. Often, there's milk and cookies.
We make it easy. No reservations are required, just show up. It's fun and free and everyone is always welcome. We love when people bring friends. We make sure there's enough milk and cookies for all.
On Friday, May 17,2013, The PJ Storytime's theme was "Community Heroes". We called kids to help and they responded. They came dressed as police, firefighters, doctors, nurses and cowboys and cowgirls. Some came dressed in their pajamas with special badges or hats. They came ready to take action.
Catching Joy read books including "Officer Buckle and Gloria" and "Sparky The Firedog" to young kids ages 0-9. The children were good listeners. After stories, kids decorated different color police cars, fire trucks, and ambulances using crayons, glue sticks and collage materials. On the backsides, with adults' help, they wrote nice messages to thank our community helpers for keeping us safe every day. Also, we collected donations for One Fund Boston. The Blue Bunny will keep the collection can out until the end of the month to give more people the opportunity to contribute.
As part of the Catching Joy lesson, I give children the option to make two projects, one to take home and one to donate. It's a gentle way to introduce them to giving.
I ask, "How do you think it will make somebody feel to receive your beautiful card?"
"Happy!" a child shouts.
I ask, "How does that make you feel when you make somebody happy?"
"Happy!" another child exclaims.
After the event, a small group of Catching Joy kids eagerly volunteered to help me deliver the cards to the Dedham Police Station and Dedham Fire Station. The police and fire fighters were glad to receive the cards and it made them feel appreciated. Catching Joy kids smiled and skipped away because it felt good to say thank you.
When we do something nice for others, it makes them happy and it makes us happy.
Catching Joy kids are right on.
Smart cookies.
Mile 5! The Blue Bunny and Catching Joy support One Fund Boston and teach kids the joy of giving!