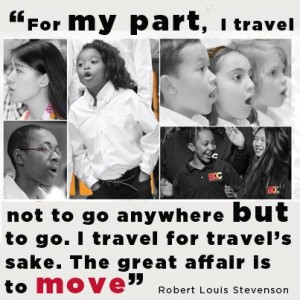 by Joy Olaes Surprenant
During the rehearsal for the Boston Children's Chorus (BCC) Finale, May 18, troche 2013, at the Strand Theater in Dorchester, MA, Catching Joy hosted an activity table to give the BCC families an opportunity to make Catching Joy cards for the victims and first responders of the 2013 Boston Marathon. The BCC community is comprised of over 450 singers, ages 7-17, representing over 50 of Boston's urban and suburban neighborhoods. Catching Joy kids will help deliver the cards to the police, firefighters and hospitals.
Right after Boston Marathon tragedy, Boston Children's Chorus had the honor of singing at the healing service, "Healing Our City: An interfaith Service", at the Cathedral of Holy Cross in South Boston, MA, which was attended by President Barack Obama and Governor Deval Patrick. They sang the folk song, "Up To The Mountain", accompanied by renowned cellist Yo-Yo Ma. It was moving and powerful.
My son, Maxwell, 9 years old, sings in the training chorus of The Boston Children's Chorus for two years now. He's fortunate to be in a chorus that offers strong choral training and high-profile public performance. Moreover, our family values BCC's mission to raise ambassadors of harmony and leaders of social change.
Catching Joy believes in the joy and power of music. We are glad to give opportunities to youth singers to use their gifts, singing and other talents, to help others. We believe that each person has something special to give and contribute to the world.
Catching Joy and Boston Children's Chorus blend together well. Last December, at the Prudential Center's "31 Nights of Light" program, Catching Joy invited select members of BCC to sing at the lighting ceremony. BCC, along with Catching Joy families and supporters, sang holiday carols- Jingle Bells, Joy to the World, Rudolph the Red-Nosed Reindeer, and We Wish You A Merry Christmas- to bring cheer and festive spirit to all. At the event, I was pleased to represent Catching Joy and "flip the switch" to turn on the light. The top of the Prudential Building shined rainbow colors in honor or Catching Joy!
Catching Joy appreciates collaboration from amazing organizations like the Boston Children's Chorus. We aim to build a strong, resilient, cooperative, compassionate, diverse, and inclusive community. We strive for peace and harmony.
The BCC Finale, on May 19, 2013, was free and open to the public. No surprise that it produced a full house for an incredible show. My husband and I sat in the audience, not just as proud parents of one of the singers, but also as great supporters of all 450+ chorus members.
Sing strong. Sing together. Sing joy.
Mile 6! Boston Children's Chorus and Catching Joy blend together to offer peace and harmony. Sing strong, sing together, sing joy!