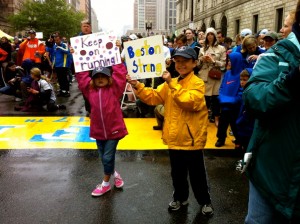 by Joy Olaes Surprenant
Rain couldn't stop us. Fear couldn't stop us. Wild horses couldn't stop us. We grabbed them by the reins, and tamed them.
On Saturday, May 25, 2013, thousands of runners and supporters participated in the OneRun, an important event to honor the victims and emergency workers and give runners the opportunity to finish the last mile, from Kenmore to Copley, of the Boston Marathon. People lined the streets clapping and cheering. The great turnout was a testament of courage, determination, resiliency, solidarity, and strength.
Early in the morning, together with Catching Joy kids and families, I headed to the Finish Line. As mile 7 in our "Catching Joy Marathon", we committed to cheering at the OneRun. Only six weeks after the bombing at the Boston Marathon, I felt somewhat uneasy being there. I could have used one of a various excuses and just sent our group home. I was tired. He was hungry. She was thirsty. Surely, somebody was going to ask to go to the bathroom, but nobody did.
I noted the police, the SWAT team, and the dogs. As much as I felt better to see all the security measures taken, I also felt anxiety. I tried to keep alert and more aware of my surroundings. I wondered, "What does a bomb smell like anyway?" As quickly as the terrifying thought crossed my mind, I wiped it away.
It was sprinkling and I didn't have an umbrella. I felt chills. I grew impatient waiting. Was it the lousy weather or my nerves getting to me?
Fortunately, the kids remained in good spirits. They didn't mind the rain in the least bit. Everyone eagerly awaited the runners and stood ready to cheer them on.
All of a sudden, I heard the roar and applauding of the crowd. I welcomed noise, excitement, and good news. People shouted,  "Here they come! Here they come!"
Catching Joy kids jumped up and down. They raised their homemade signs above their heads and shouted positive messages, "Boston Strong!" and "Keep on running!"
I, too, felt elated as I saw the runners coming. The leaders charged forward, steady and strong, at a very even pace. They carried big flags.
After them, thousands of people followed in waves. Some were running and others were walking. Some were young and others were old. Some were injured, but making their way. Many were there to help. Many held hands throughout the whole race.
One thing was certain-EVERY runner crossed the Finished Line.
At the end of the race, the runners showed mixed emotions. They laughed and cried; they rejoiced. Everyone hugged each other.
As spectators, we were inspired and touched.  We felt satisfied and happy. We, too, hugged each other.
What we didn't expect was that some of the runners would come back and thank us. They appreciated our support. Several people asked Catching Joy kids to hold up their signs so they could take pictures. They offered our group smiles, compliments and "thumbs up".
I am very proud of our Catching Joy kids for giving their boundless energy and enthusiasm.  They shared their joy, light, and love. They played a great part in the OneRun as they represented optimism, hope, and a brighter tomorrow.
We'll keep on running.
Mile 7! Catching Joy kids cheer at the Finish Line of the #OneRun! Boston Strong! Keep on running!