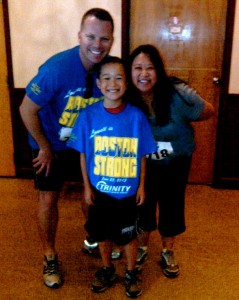 by Joy Olaes Surprenant
Catching Joy was pleased to support "Lowell is Boston Strong", a 5K run/walk held Sunday, June 23, 2013, in Lowell, MA. Sponsored by Trinity EMS, Inc., an ambulance and rescue transportation service company, the event raised money to aid the victims of the 2013 Boston Marathon from the Greater Lowell area. Many walked for Celeste and Sydney Corcoran, a mother and daughter, who were severely injured from the bombing.
Over 200 participants united to run or walk for the cause. The majority of the runners lived or worked in Lowell, but others, like us, came from other areas. There were a mix of people, men and women, young and old, pregnant women, and people walking with babies in strollers or walking their dogs with leashes.
We volunteered as a family- me, my husband Michael and my son Maxwell. We savored the special time spent together walking and talking and enjoying the warm, sunny day. We rambled about our schedule for the day, for the week, for the summer. We chattered about all the fun things we wanted to do, people we wanted to see, places we wanted to go.
As we trodded along the mostly flat course along the scenic Merrimack River, we reflected upon the 2013 Boston Marathon bombing and the victims and their families. We felt sympathy for their pain and loss, and we prayed for their healing.
All of us hold admiration for their spirit and strength as they work toward recovery and move forward each day. From their stories, we derive great inspiration.
We can walk, run,skip, laugh,love, live, and give to others.
With humbleness and gratitude, we lace up our sneakers because we can.
Mile 10! Catching Joy participates in Lowell 5K, Lowell is Boston Strong! We run because we can!